WCSC News

Sports!

Assessment

Immunizations

WCSC on Facebook
Four Long-time WCSC Educators Calling it Quits
Teachers Linda Moncel, Rob Evans, Alice Hierlmeier, and Supt. Chuck Mellon were honored at a breakfast celebration.
---

WCSC Superintendent Chuck Mellon retiring
In the spring of 2014, West Central School Superintendent Charles "Chuck" Mellon informed the WCSC School Board of his intent to retire at the end of this contract on June 30. Supt. Mellon has enjoyed a 43 year career that began as a teacher and coach in Rossville with stops along the way at John Glenn and Winamac before finding a home with the West Central Schools.


An Open House for Supt. Mellon will be held on Tuesday, June 17th at the West Central School Corporation in Francesville from 11:00 AM till 3:00 PM. The public is invited.

Recently, Supt. Mellon sat down with the WCHS Web Site and did an interview reminiscing about this career.


Click here to read the Web Site interview.

Mr. Mellon also published a thank you in the most recent issue of the WCSC Communicator.

Click here to read his Communicator thank you.
Present West Central High School Principal Don Street has been promoted to fill the Superintendent vacancy. West Central High School class of 1995 graduate Patrick Culp was recently hired by the WCSC Board to assume the duties of WCHS Principal.

Congratulatory emails may be sent to Supt. Mellon at: This e-mail address is being protected from spambots. You need JavaScript enabled to view it

---

WCHS 2014 Bronze Status School

The U.S. News and World Report 2014 Best High Schools rankings, released May, 2014, can help parents identify standout schools in their state, as well as those that excel nationally. U.S. News analyzed more than 31,200 public high schools in all 50 states and the District of Columbia, and has published data on more than 19,400, including student demographics and results on state exams and Advanced Placement and International Baccalaureate tests.
U.S. News teamed up with American Institutes for Research, a D.C.-based organization, to evaluate schools in three phases. The first two steps looked at overall student performance on state-mandated assessments, as well as how effectively schools educated their black, Hispanic and economically disadvantaged students. The third stage of the evaluation used participation in and performance on AP and IB exams to evaluate how well schools prepared students for college-level course work.
In the national rankings, 500 high schools earned gold medals, 1,519 took home silver and 2,688 were awarded bronze.
West Central High School was awarded Bronze School status.

For more information, click HERE.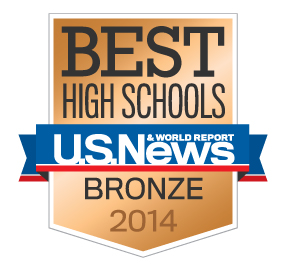 ---
Lady Trojans are Team of the Week
For the week of December 9 - 13, the West Central girls' basketball team has been named by Hoosier Authority as the "Team of the Week" for the Lady Trojans' performance last week against Winamac and North Judson.
For more information check out www.hoosierauthority.com and specifically this great write-up.
Congratulations to the Lady Trojans and keep on winning!
---

New Staff at the West Central School Corporation
The 2013-14 school year began in mid August with twelve new staff members beginning their tenure at the West Central School Corporation. Three teachers, Courtney Cervenka - Special Education, Adam Huber - 4th grade, and Lindsay Hopkins - 3rd grade, are new to the West Central Elementary.
Click here to learn more about the new WCES teachers.
Jeff Horlacher will teach 7th grade mathematics and Brandy Aschbrenner will be an Instructional Assistant at the West Central Middle School.
Click here to learn more about the new WCMS staff.
And at the West Central High School, Melvin Wireman (Math), Jennifer Johns (health Occupations), Kris Aschbrenner (Tech Team), Ryan Myers (CAD), Travis Stangland (Business), Meredith Fitch (Language Arts), and Caryn Yochum (PE) all are first year teaches for the corporation.
Click here to learn more about the new WCHS teachers.
The community welcomes the new staff members to WCSC!
---
West Central High School is an Indiana Four Star School
Congratulations to West Central High School for achieving Four Star status by the Indiana Department of Education!

Go to the WCHS home page (http://hs.wcsc.k12.in.us) for more information.
---
Educational Foundation
The West Central School Corporation is soliciting donations to the West Central Educational Foundation for this year's scholarships. Each year, an average of almost 30 seniors receive scholarships through the generosity of donations to the WC Educational Foundation.
We are hoping you will support this very worthwhile project. If you are interested in donating,
please click on this link
.
Thank you!
---
WCSC Communicator

The West Central School Corporation Communicator is a newsletter published four times per year and circulated throughout the WCSC school community.

Click
to download the LATEST copy of the WCSC Communicator in pdf form. Past copies of the Communicator can be found on the Document Manager page of this website.
Click
to download the LATEST 3-month activity calendar.
Past editions of the Communicator
, as well as daily and weekly announcements, can be found on the
Document Library
.
Physical Form
---
Every athlete participating in a WCMS/WCHS sport must have a physical examination performed on or after May 1 by a Physician holding an unlimited license.

Click here to download the IHSAA official physical form.



2013 WCHS Trojan Athletic Golf Outing
---
The 9th annual West Central Trojan Open was held on Septeber 28th at Chesapeake Run Golf Course. The West Central Athletic Department sponsors the Trojan Open with 100% of the proceeds used to fund college scholarships for Trojan athletes.
Fourteen teams and over 50 golfers enjoyed a beautiful day on the golf course. Team Rock and Team Brickly each shot 59 on the par 72 course with Team Rock winning the tie-breaker. Team Pulaski Memorial Hospital was one stroke back with a 60. Once again the major prizes for a Hole in One went unclaimed, but many golfers were able to score prizes by winning the numerous closest to the hole or longest putt contests. Finally, a 50/50 raffle was held with the winner being a member of Team Brickley.
The WCSC Athletic Department would like to thank the Cheapeake staff and the many sponsors who helped make the day a great success. All golfers left the course with memories from a fun round of golf, a full stomach via a great lunch which followed the golf, and valuable prizes due to the generosity of the sponsors.
Sponsors for the day included: Braun Corporation and CEO Nick Gutwein, Kennedy Electric, Doug Kingsley, Ceres Solutions - Pleasant Ridge, Pioneer Hi-Bred, Lake City Bank, Pioneer- Athletic, BP/Amoco, Dave Parish Family, Patio Drive-In, Coca Cola, Pulaski Memorial Hospital, Winning Edge, Alliance Bank, Crown Products and Services, Good OIl, Monticello Farm Services, Prairieland Farms LLD, and Family Express.
Proceeds from the outing have funded close to 40 scholarships for Trojan athletes. Below is a list of past scholarship winners:
2006: Emily Gutwein, Lacie Dobson, Jacob Fritz, Lindsey Stevens
2007: Scott Evans, Kerry Nielsen, Grace Wuethrich, Lindley Vollmer
2008: Travis Nuest, Chelsea Pfledderer, Jordan Stevens, Jesse Wuethrich
2009: Sierra Burtis, Jordan Danford, Jacob Podell, Caity Sams, Vanessa Wuerthner
2010: Augus Cameron, Riley Cervenka, Makenna Hamilton, Lance Kruger, Rylie Pfledderer
2011: Jacob Smidler, Jennifer Van Oort, Alex Chrzan, Joshua Zeltwanger
2012: Justine Kruger, Marissa Hamilton, Lexi Gudeman, Alisha Tanner, Jordan Culp, Evan Kruger
2013: Spencer Holliday, Michael Hamilton, Braden Bonczek, Samantha LIncoln, Jennifer Tendick
The West Central Athletic Department thanks all that contributed the the successful 2013 fund raiser.
Each year our K-12 students are asked to take a
variety of formal assessments
in addition to the usual tests and quizzes given at the classroom level.  These assessments include those adopted locally that are used to help us make better decisions about how to meet our students' educational needs as well as those mandated by the state of Indiana.  Please click here to learn more about the
assessments given at each grade level
.
West Central School Corporation Nurse Arlene Metzger has released the following information concerning immunizations for the school year 2014-2015.

Check here for latest updates and Information on immunization requirements.